New Location:  2014 NYCoRE Conference
New Address:
The Urban Assembly Institute of Math and Science for Young Women
 283 Adams Street, Brooklyn NY 11201

Date and Time Remain the Same
March 15th, 2014
8:45-5:45
NYCoRE is committed to holding our annual conference in NYC public school buildings because we believe that public schools should be community spaces where education stakeholders such as teachers, students and parents can come together to engage on issues of educational justice.  Our decision to host the conference in a public school building is not without its challenges.  One such challenge is the issue of locating a barrier free building that can accommodate 800 participants!  Sadly, 75.7% of NYC public school buildings are not even "functionally accessible".  Despite considerable efforts on the part of many, we were unable to obtain the equipment necessary to make our initial conference home even partially accessible.
This is why NYCoRE has decided to relocate the conference to Urban Assembly Institute in downtown Brooklyn.  This experience has opened our eyes to the ways in which we have not organizationally attended to issues of (dis)abilities and has bolstered our commitment to increasing access at the conference and other NYCoRE events.  We look forward to further dialogue with the larger community about further steps to make our organization and its events more inclusive for all.
We are grateful to both BCAM and our new home Urban Assembly Institute for working with us to make this conference great!
For registration information: http://www.nycore.org/conference (Update 3.14.14: Online conference registration is now closed. There will be limited on-site registration tomorrow (Saturday) at 8:45 am.)
Transportation:  2, 3, 4, 5 to Borough Hall –  A, C, F to Metro Tech-Jay Street- [check for service changes]
Questions? info@nycore.org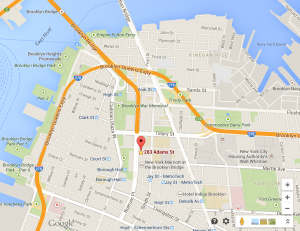 | | | | |
| --- | --- | --- | --- |
| Icon Parking Systems | 111 Livingston Street (between Boerum Pl and Court St) | 0.3 miles | $10/10 hours |
| GGMC Parking | 22 Smith Street | 0.3 miles | |
| Manhattan Parking Boro Corporation | 40 Clinton Street | 0.3 miles | $13 all day; $23 for vans and SUVs |
| Central Parking at the Marriott | 333 Adams Street | 338 feet | $18/car, $30/SUV |
| Brother's Car Park | 180 Montague Street | 0.3 miles | $12 all day, $18 for SUVs |
| Central Parking at 1 Pierpont Plaza | 300 Cadman Plaza West | 0.2 miles | |
| Car Park Systems | 120 Concord Street/219 Jay Street | 0.3 miles | $16/12 hours, $24 4×4, out by 12am |