RSVP for NYCoRE's December Meeting
Friday, December 13th!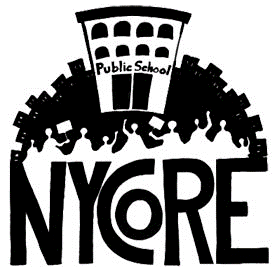 6 pm – 8:00 pm
NYCoRE 101 at 5:30 pm
Understanding our Points of Unity: (Re)imagining NYCoRE's Vision of Social Justice in Education
Join us for our next monthly meeting as we continue to reflect collectively on NYCoRE's Points of Unity, the principles and philosophies that ground us in our work and bring us all together.
We will follow up on last month's meeting by examining our Points of Unity using our creativity, critical analysis and collective experiences. Don't worry if you weren't able to make it to last month's meeting or if this is your first NYCoRE meeting! We are eager to identify about the root causes and effects of the systemic problems we all see in our schools, communities and students' lives– and think about the axes we all wield in our classrooms and beyond.
Break Out Groups will continue their ongoing work.
Location:
NYU Pless Hall 3rd Floor Lounge
82 Washington Square East
New York, NY
Time:
6:00 to 8:00 PM
NYCoRE 101 at 5:30 for new members
Questions? Please e-mail info@nycore.org
Please Bring ID and don't forget to RSVP here!
See you soon!
http://www.nycore.org
Support provided by the Union Square Award, a project of the Tides Center.
NOTE: If you are registering below please make sure to scroll through the whole form.  
If having trouble click RSVP