Current list of confirmed workshops* can be found here: http://www.nycore.org/conference/conference-workshops/#sthash.I8z8MZzI.H2MafupN.dpbs *subject to change  Register here!
1
Current list of confirmed workshops* can be found here:
*subject to change 

0
6th Annual NYCoRE Conference
JUSTICE NOT JUST-TESTS
    Date: Saturday, March 21, 2015
 Location: James Baldwin School
351 West 18th Street
Manhattan, NY 10011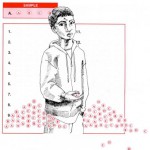 This year's keynote will be a powerful merging of performance and personal storytelling.  We're extremely grateful to these individuals for sharing their art and personal stories of the how the high-stakes testing craze is affecting them: students, parents, teachers, and administrators.  We will hear how people from different locations are facing of these systems through organizing, resisting, and visioning alternatives!  We hope that you all will take with you reminders of inspiration and creativity for our continued work in this beautiful movement. 
Directed by Una Aya Osato, a performer, writer and educator; and a proud product of the NYC public school system, for more: www.unaosato.com. Performers: Jamila Lyiscott, Poet, Educator, PhD Candidate, activist, Graduate Research Fellow, Teachers College, Columbia University. Follow her @BlackRelevance. José Vilson is a teacher, activist, author of This Is A Not A Test: A New Narrative on Race, Class, and Education, and writer at thejosevilson.com Erica Doyle is a native New Yorker who has been an educator for over 20 years. Rosie Frascella is an 11th grade English teacher at the International HS at Prospects Heights, a core member of NYCoRE, and a test resister. Dao X. Tran is an editor based in the South Bronx, where she lives with her young daughter (dao@haymarketbooks.org). Loco-Motion Dance Theatre: Loco-Motion promotes works of emerging social consciousness and provides a forum for young voices to be heard. www. Lmdt.org. They will be performing: "Measurements": Choreographed and performed by: Zoe Dalzell-Sexton, Veronica Habacker, Vera Hogg, Lola Kenet, Murphy Penn, Jackie Marino Thomas and Sophia Turso.  Lady and Crystal from Urban Word NYC provides FREE, safe and uncensored writing workshops to teens year round, and hosts the Annual  NYC Teen Poetry Slam, NY Knicks Poetry Slam, local and national youth festivals, reading series, open mics, and more. http://www.urbanwordnyc.org/uwnyc/slams
8:45-9:30    Registration and Breakfast
9:30-10:45    Opening and Keynote
11:00-12:30    Workshop #1
12:30-1:30    Lunch and Tabling
1:45- 3:15    Workshop #2
3:30-5:00    Workshop #3
5:00-5:30    Community Building
5:45-8:00    After party
For more information about the conference: Click here.
0
Join NYCoRE for our third working group only meeting. This meeting will consist of mainly working group time and report backs so you can learn about the radical work of other groups. You will have the option to choose from the following working groups below. If you want more information please attend the NYCoRE 101 where representative from each working group will be there to discuss their work.This month's meeting is earlier because we have our ItAG Kick-Off Meeting on 
January 23rd
. Check out our awesome line-up and register 
here
.
Conference Working Group:
The Conference Working Group is responsible for all of the organizing (from t-shirt design to food service) of NYCoRE's Annual Conference.  The committee is currently full but we are seeking volunteers for a variety of smaller yet very important tasks. Please email Emily Clark for more info: 
clarkemilyb@gmail.com
.
Political Education Working Group:
This group will discuss and analyze critical texts that relate to neo-liberalism, racism, and high-stakes testing as well as design political education for the larger NYCoRE membership body.
High Stakes Testing Campaign Working Group:
This is a new group that will focus on building a campaign against high-stakes testing. In our initial state, we will focus on studying and constructing our analysis around race, neo-liberalism and testing.
Teach Dream:
We work to create safer schools for undocumented students, advocate for equal rights and opportunities for all students, increase access to resources, and lift up student activism and leadership around issues of immigration.
Curriculum Working Group:
We share lessons and strategize around how to challenge racism and oppression in a variety of education environments.
NYQueer Working Group:
NYQueer focuses on issues of gender and sexuality as they relate to school communities. We aim to support and make connections between teachers, students and community organizations engaged in the work of creating spaces where all identities are acknowledged and respected.
New Teacher Underground:
New Teacher Underground is a safe space for new or new-feeling teachers to collaborate, trouble-shoot our pedagogical practices, and bond!
Adult Educators for Social Justice:
We are educators working with adult learners; join us to share strategies for social justice pedagogy and practice within the field and to advocate, agitate, and grow together.
In addition to the working groups meeting at our monthly gatherings, there are two affinity groups of NYCoRE that meet outside of meetings.
Educators of Color Group:
We are a group of people who identify as educators of color…who advocate for a nurturing, transformative and action-driven space for educators of color to connect, learn, struggle, and heal together.
Anti-Racist White Educators Group (AWE-G):
The Antiracist White Educators Group (AWE-G) aims to cultivate a supportive yet critical space for white-identifying educators to work towards understanding, confronting and undoing racism and white supremacy in ourselves, our schools, and the larger world
NYU Pless Hall 3rd Floor Lounge
82 Washington Square East
New York, NY
Date:
Friday, January 9, 2015
Time:
6:00 to 8:00 PM
There will also be a NYCoRE 101 Session at 
5:30
 for folks who are new to NYCoRE and who would like to hear more about the organization and ways to plug into it. If you are interested, please 
RSVP
here.
Vegetarian dinner will be provided. Please bring your own drinks. Also, NYCoRE is making an effort to go more green this year. We'll have plates and cutlery, but we encourage you to bring your own so we can reduce our use of disposables. Let's be radical in all aspects of living.
Please Bring ID and 
RSVP
here
to give us a head count for food, and to notify security.
NYCoRE