Practice What You Teach: Social Justice Education in the Classroom and the Streets
by Bree Picower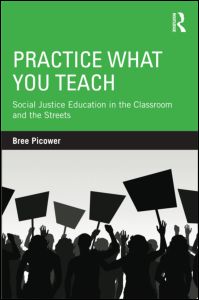 Many teachers enter the profession with a desire to "make a difference." But given who most teachers are, where they come from, and what pressure they feel to comply with existing school policies, how can they take up this charge? Practice What You Teach follows three different groups of educators to explore the challenges of developing and supporting teachers' sense of social justice and activism at various stages of their careers: White pre-service teachers typically enrolled in most teacher education programs, a group of new teachers attempting to integrate social justice into their teaching, and experienced educators who see their teaching and activism as inextricably linked. Teacher educator Bree Picower delves into each of these group's triumphs and challenges, providing strategies and suggestions for all teachers along with her in-depth analysis.
By understanding all these challenges, pre-service and in-service teachers, along with teacher educators, will be in a better position to develop the kind of political analysis that lays the foundation for teacher activism. This timely resource helps prepare and support all educators to stand up for equity and justice both inside and outside of the classroom and offers a more nuanced portrait of what the struggle to truly "make a difference" looks like.
You can also purchase the book at Teaching for Change's Busboys and Poets Book Store
or at Routledge
What people are saying about Practice What You Teach:
"Both practical and provocative, this book will be an essential tool for those working to develop teachers who are both more critical in their teaching and more invested in activism beyond the classroom. " — Charles M. Payne, Frank P. Hixon Distinguished Service Professor in the School of Social Service Administration, University of Chicago
"Bree Picower shows how teacher activism develops and can be nurtured in this engaging, personal, and highly insightful volume. This book is a must-read for anyone who believes that education is key to social justice." — Christine Sleeter, President of the National Association for Multicultural Education
"Based on sound research with teachers at various stages of consciousness about inequity and injustice, this book will be an invaluable source of support and inspiration for all teachers." — Sonia Nieto, Professor Emerita of Language, Literacy, and Culture, University of Massachusetts, Amherst
Contents
Chapter 1: Teacher Activism: Social Justice Education as a Strategy for Change
Chapter 2: "Why Do We Have to Talk About Race Again?": Oppositional Stances and Tools of Whiteness
Chapter 3: Teaching for Justice: Developing Strategies for Integrating SJE in the Classroom
Chapter 4: Stuck at the Classroom Door: Falling Back on Tools of Inaction
Chapter 5: Reconciling the Vision: Taking Action for Educational Justice
Chapter 6: "Making a Difference": Teaching in the Classroom and Organizing in the Streets
About the Author
Bree Picower is Assistant Professor in the College of Education and Human Services at Montclair State University and Core Member of the New York Collective of Radical Educators (NYCoRE).