NYCoRE is interested in furthering the development of curricula and workshops that help educators and students resist the social and educational injustices that are shaping out world. Below is a list of materials that have been developed by different NYCoRE organizing projects or inquiry to action groups.
Beyond Tolerance: A Resource Guide for Addressing LGTBQI Issues in Schools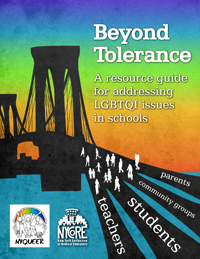 NYQueer and NYCoRE are pleased to announce the release of a curricular resource guide to support educators in addressing Lesbian, Gay, Transgender, Bisexual, Questioning and Intersex  (LGBTQI) issues and themes in their classrooms.  Often, teaching about LGBTQI issues in the classroom is complexand unique – fraught with a variety of fears and uncertainty including fear of retribution and backlash from students, families or administration.  But as educators, we must teach these issues because we know it is what is right— as individuals committed to social justice; as LGBTQI-identified educators; for the LGBTQI students we meet; and because we know too clearly what the outcomes are when we don't.
We really do live in a world where some people grow up feeling like it would be better to be dead than gay.  Perhaps it was the alarming number of recent teen suicides that will motivate you to download  this guide.  Maybe you feel like you want to do something, and are hoping this is a good place to start. We hope so too.  But more importantly, we hope that once the media coverage dies down, you will continue to seek out ways to raise awareness and help young people build the skills they need to identify and take action against any injustice they encounter.
_________________________________________________________________________________
Camouflaged
Investigating How the U.S. Military Affects You and Your Community
We believe that drastic cuts in state and city education budgets are indicative of the war being waged against low-income youth, especially youth of color. Military recruiters see the lack of sound educational institutions in low-income communities as an opportunity to encourage young people to join the military after high school. We as teachers must proactively help students address the camouflaged ways they are affected by the military and challenge them to seek alternatives to enlisting in the military.
To purchase Camouflaged
Free Download Military Recruitment Ppt
To inquire about the MILITARY MYTHS film visit:  Paper Tiger Television at http://www.papertiger.org
---
Revealing Racist Roots
The 3 R's for Teaching About the Jena 6
Teacher Activist Groups (TAG), a growing network of teacher organizations with a focus on social justice education, collected resources and suggested activities to help teachers and students understand the case of the Jena 6. TAG currently includes New York Collective of Radical Educators (NYCoRE), Chicago based Teachers for Social Justice (TSJ), and the San Francisco based Teachers 4 Social Justice (T4SJ). TAG joins the outpouring of organizations and individuals outraged by the events surrounding the arrest and detainment of 6 African American high school students from Jena, Louisiana. Through the publication of a resource guide entitled, Revealing Racist Roots: The 3 R's for Addressing the Jena 6 in the Classroom, TAG calls upon educators to raise the issue in their schools.
If all students are expected to learn about our country's justice system, our history, our laws and our rights, what kinds of lessons can we learn from the Jena 6? TAG created this guide as resource for understanding contemporary racial conflict by placing the case of the Jena 6 within a historical framework. The guide makes connections between the following sections:
* The Historical Context of American Racism
* Linking to Literature
* Media Literacy
* Artivism: Responding Through the Arts
* Social Action
* Detailed Mathematics Unit
* Links to organizations & more information
Click the link to download Revealing Racist Roots: Revealing Racist Roots
---
No Human is Illegal! – ¡Ningún
Ser Humano es Ilegal!
This guide is for educators to take on the important issues that teachers and students have been tackling in their activism INSIDE the classroom.  We must not let our sense of civic duty to engage these critical issues begin once the school day is over—we must weave them into our teaching and learning. This resource can be best utilized online as a web resource. The links and topics will be relevant
long past the next few marches and protests. It is organized into the following three sections and we encourage teachers to join us in fulfilling each goal:
Encourage and Protect Students' Activism

Connect your Activism to your Academics
Download the resource guide below: No Human Is Illegal
---
Through Culture We Resist
Lesson plans, narratives, and curriculum ideas developed by particpants in the African Diaspora Cultural Arts and Social Justice – Inquiry to Action oup (ItAG)
"This book was created from the gatherings, conversations, and workshops of teachers, teaching artists, elders, social workers, organizers, and artists. The group was our Teacher's Circle and was called: "African Diaspora Cultural Arts Education and Social Justice in the Classroom Inquiry to Action Group". In this group, teachers and teaching artists worked together to learn about various cultural arts of the African Diaspora (Latin American, North American, Caribbean, and African) including music, dance, visual arts, theater, literacy and storytelling. Each week we introduced a new cultural art/artist, and teacher designed lesson plans tailored to their student's needs that address a social justice issue while teaching about the cultural art. The learning process was rooted in popular education, dialogue, peer exchanges, group coaching of individual teachers, artist and teacher partnerships, and personal exploration of the social justice issue as a point of departure to teaching youth. This group was facilitated by Manuela Arciniegas, Director of
The Legacy Circle
, cultural Diana Quinones, public school teacher of sixth graders at New Day Academy in the South Bronx, and 8 visiting teaching artists: Atiba Wilson, Julia Gutierrez-Rivera accompanied by Juan Gutierrez and Alexander LaSalle, Jose Figueroa, Luis Da Silva AKA Eli Efi, and Ayanna Saulsberry." – quoted from introduction section
Download the resource guide below: PDF Version
---
An Unnatural Disaster: A Critical Guide for Addressing the Aftermath of Hurricane Katrina in the Classroom
The goal of this resource is to encourage teachers as they boldly raise the bar of intellectual questioning in their classrooms. It serves to make available information that will
responsibly provide broad and informed perspectives for students to ponder.  Teachers must tackle tough issues with students to uncover truths about the nature of power in our society. This is an opportunity for the education community to honor those that are suffering by refusing to ignore them.
Also included is a list of organizations in need of contributions to help hurricane victims recover from this disaster. One of the many lessons learned from recent events is that communities need to be prepared to take care of themselves rather than rely on the government's assistance in the event of a catastrophe. The grassroots organizations listed offer charitable giving alternatives to the massive NGOs utilizing most of the contributions flooding their accounts for administrative costs.
Download the resource guide below: PDF Version