JUSTICE NOT JUST-TESTS
    Date: Saturday, March 21, 2015
 Location: James Baldwin School
351 West 18th Street
Manhattan, NY 10011

KEYNOTE: Justice Not Just Tests Performance
This year's keynote will be a powerful merging of performance and personal storytelling.  We're extremely grateful to these individuals for sharing their art and personal stories of the how the high-stakes testing craze is affecting them: students, parents, teachers, and administrators.  We will hear how people from different locations are facing of these systems through organizing, resisting, and visioning alternatives!  We hope that you all will take with you reminders of inspiration and creativity for our continued work in this beautiful movement.
Jamila Lyiscott, Poet, Educator, PhD Candidate, activist, Graduate Research Fellow, Teachers College, Columbia University. Follow her @BlackRelevance.

Jose Vilson is a teacher, activist, author of This Is A Not A Test: A New Narrative on Race, Class, and Education, and writer at thejosevilson.com

Erica Doyle is a native New Yorker who has been an educator for over 20 years.

Rosie Frascella is an 11th grade English teacher at the International HS at Prospects Heights, a core member of NYCoRE, and a test resister.

Una Aya Osato is a performer, writer and educator; and a proud product of the NYC public school system, for more: www.unaosato.com

Dao X. Tran is an editor based in the South Bronx, where she lives with her young daughter.

Loco-Motion Dance Theatre: Loco-Motion promotes works of emerging social consciousness and provides a forum for young voices to be heard. We encourage students to create material that reflects their responsibility as members of a global community to explore the idea that art can affect positive change. For more information please visit: www. Lmdt.org. They will be performing: "Measurements": Choreographed and performed by: Zoe Dalzell-Sexton, Veronica Habacker, Vera Hogg, Lola Kenet, Murphy Penn, Jackie Marino Thomas and Sophia Turso.  This piece is choreographed and performed by 9-14 yr old participants of a choreography laboratory at Loco-Motion Dance Theatre.

 Urban Word Poets

And more to come….
The current regime of high-stakes testing has stormed Godzilla-like through our schools, leaving anxious students, frustrated teachers, disempowered parents, and decimated school systems in its wake. While ensuring that students are indeed learning is an essential responsibility of educators, the current test-based approach is deeply flawed, perpetuating existing inequities in the service of corporate profits while undermining its purported goals of ensuring a quality education for all.
With historical roots in the eugenics movement, standardized tests originated as a means for justifying racial oppression by arguing that "scientific measurements" provided the basis for a racial hierarchy. Although current rhetoric shies away from an overt ranking of racial groups, the very structure by which such tests are designed is inherently biased. Today's practices have the detrimental effect of sorting students by race and class and providing them with  stratified educational experiences that ultimately reproduce existing inequalities.
The hysteria produced by poor test scores, despite their questionable validity, has led to the gutting of teacher unions, the dehumanization of classrooms, and the wounding of neighborhoods through school closings. While communities continue to suffer, corporations are situated to gain, as the neoliberal alliance between politicians and corporations are aligned in their implementation of these "accountability" policies. Such policies funnel money away from the public system by mandating the use of tests, curricula, and teacher evaluation tools aligned to them — all products developed and marketed by private companies. While public money makes its way to private pockets, the real crises of structural barriers to educational opportunity, such as poverty and racism, are ignored.
Those involved in education are called upon to seek JUSTICE, not just tests in the face of this context that punishes students for the failures of our society and destroys the heart of learning — thinking deeply, dreaming, creating.  NYCoRE's 6th Annual Conference seeks to celebrate and grow the efforts of those resisting the pressures of high stakes testing. How are you working for an education system that is built for people rather than for corporate profits? How are you working to nurture the people within that system, encouraging students, teachers, and parents to be thinking, questioning change-makers, rather than bubble-fillers?
We are seeking proposals relevant to educators in varied settings that focus on a diverse range of topics. Critical political analyses are welcomed, as are curricular ideas, classroom strategies, community work, and other ideas for inspiring practice.  We are also seeking workshops that contribute to bridging the gap that often exists between educators and young people by bringing the voices of youth into workshop sessions.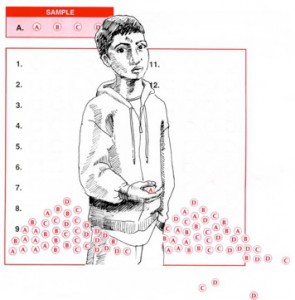 Goals of the Conference
 To share information and critical thinking around the conference theme, namely imagining possibilities for justice and liberation for education.
To provide rights-holders in the education system with information and new ideas that can strengthen our effectiveness as activists, both inside and outside of our classrooms (and other sites)
To forge connections between and among educators, researchers, parents, activists, and students, fostering new and innovative partnerships and collaborations
To develop structures for ongoing discussion and working groups about education and social justice
To organize a national voice in the ongoing debate over education reform
To plan actions, advocacy, future meetings
To bridge the gap between youth and educators by creating a space to make young voices heard
To develop and share ideas for inspiring practice, both inside classrooms and in communities
Conference Timeline
Please note: Applications are due earlier this year than they have been in the past!
October 27th: Call for Proposals for workshops and Call for Proposals for tables made available
December 28th: Call for Proposals for workshops due
January 14th- 20th: Notification of Accepted/Rejected workshops (Please note, we do not have the capacity to provide feedback on rejected proposals.)
January 14th: Registration Open
January 23rd: Accepted presenters must confirm participation
February 1st: Call for Table application due
February 1st: Program Ads due (email mwoodmanrussell@gmail.com for ad info)
February 27th: Discounted presenter and tabling registration ends