NYCoRE is proud to be co-sponsoring this event.
Please join us!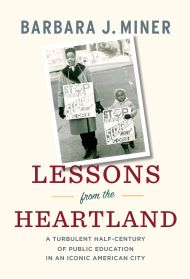 THE EVENT IS FREE AND OPEN TO THE PUBLIC
WEDNESDAY, MARCH 13, 2013
7:00-8:30 PM
CUNY GRADUATE CENTER RM. 6304
365 FIFTH AVE. NYC
THE PUBLIC SCIENCE PROJECT BOOK SERIES: FAULT LINES OF OPPRESSION, FRONT LINES OF RESISTANCE
A BOOK PARTY AND CONVERSATION WITH BARBARA MINER
Former managing editor of RETHINKING SCHOOLS, and author of:
LESSONS FROM THE HEARTLAND: A TURBULENT HALF-CENTURY OF PUBLIC EDUCATION IN AN ICONIC AMERICAN CITY
INTRODUCED BY STAN KARP,
DIRECTOR OF THE SECONDARY REFORM PROJECT FOR THE EDUCATION LAW CENTER
WEDNESDAY, MARCH 13, 2013
7:00-8:30 PM
CUNY GRADUATE CENTER RM. 6304
365 FIFTH AVE. NYC
Sponsored by The Public Science Project. Co-sponsored with The Critical Social and Environmental Psychology and The Urban Education Programs, NYCORE, (In)equality Matters Advanced Research Collaborative at the Graduate Center, City University of New York and The Urban Research-Based Action Network (URBAN).
This event will be live tweeted.
From an excerpt of Lessons from the Heartland at Rethinking Schools:
Wisconsin—and, in particular, urban Milwaukee—has been at the forefront of a half-century of public education experiments, from desegregation and "school choice" to vouchers and charter schools. Lessons from the Heartland: A Turbulent Half-Century of Public Education in an Iconic American City by Barbara J. Miner, former managing editor of Rethinking Schools, is both a narrative portrait of the struggles for equitable education in Milwaukee, and an exploration of the larger issues of race and class. This excerpt is an adaptation of chapters 17 and 25 (The New Press, 2013).
Vouchers Pass, Abandonment Begins
The long, painful, and conscious abandonment of Milwaukee's public schools began in September 1990. Publicly funded vouchers for private schools evolved from conservative dream to on-the-ground reality.
Like most people, I didn't give vouchers much thought when the Wisconsin Legislature passed the program. Vouchers were promoted as "choice" for poor people, an experimental effort under which public dollars would pay the tuition at a handful of private, nonreligious community schools serving a couple of hundred poor children. It seemed worthwhile and noncontroversial, akin to throwing a few dollars in the missionary collection basket at Sunday church.
My first encounter with vouchers, on Nov. 14, 1990, was unexpected but enlightening…
As a member of rethinking schools you can read the rest of the excerpt here