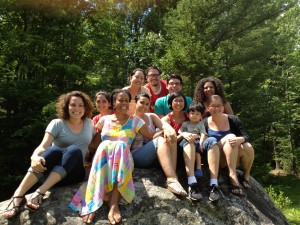 If you identify as an educator and person of color, please join us on Saturday, June 29th for the New York Collective of Radical Educators (NYCoRE) Educators of Color End-of-Year Retreat!
If you have trouble viewing or submitting this form, you can fill it out online by clicking here
After a day of meeting head-to-head and heart-to-heart we will have:
-Clarity about who we are, what we do, and how we work.
-Practical, actionable goals and next steps.
-A fostered and deepened sense of community.
Date: June 29, 2013
Time: 10:00-5:30pm
Location: Betances Community Center, 465 St Anns Ave, Bronx, NY 10455
Nearest trains: 5 train to 3 Av – 149 St (and then an 8 minute walk)
6 train to Brook Av (and then a 10 minute walk)
Phone:(718) 585-5040
Agenda Draft: (Please note that times will be adjusted on Saturday)
8:45am- Set up crew arrives
9:30-10:30am- Breakfast
10:30-11:15am- Ice Breakers/Community Building
11:15-12:00am- Breakout Sessions: Yoga or Radical Healing
12:00-12:45pm- Lunch
12:45-2:00pm- Who Are We? Why Are We?: Timeline (revisit last retreat's notes) and History of PoC group and using points of unity to create group goals
2:00-3:00pm- Flex time, outdoor activity, snack, relationship building, down time
3:00-5:00pm- How do we work? Defining leadership, decision-making, and commitments; ends with developing an action plan for our group
5:00-5:45pm- Clean Up
For questions email: info@nycore.org
Register below: