TEACH RADICAL SERIES: ALTERNATIVE EDUCATION IN PRACTICE
Part 2: Agitating for Better Public Schools – May 28, 6-8pm – RLS-NYC
There is a battle raging over whether education is to be protected as a human right or sold as a commodity. Under Bloomberg's mayoral control, New York City's public school system has veered toward privatization and exclusion, and the city's youth—particularly those who are poor, black, and brown—are paying the costs. How are teachers, parents, and students resisting, and what can the rest of us do to support them? Find out what two groups—the New York Collective of Radical Educators (NYCoRE) and the Coalition for Public Education—are doing to ensure that our schools remain sources of democracy and progress, not factories reproducing inequity and injustice.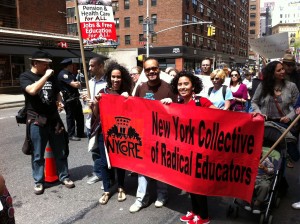 NYCoRE is a group of public school educators committed to fighting for social justice in our school system and society at large, by organizing and mobilizing teachers, developing curriculum, and working with community, parent, and student organizations.
The Coalition for Public Education is an independent non-governmental organization that fights to ensure that New York City public schools are places of learning in which stakeholders (parents, students, educators, non-pedagogical staff, administrators, community) are engaged in a democratic process to provide free and quality education to all students, from pre-school to college.
Tuesday, May 28 | 6 – 8pm | Rosa Luxemburg Stiftung-NYC
275 Madison Ave., Suite 2114, NYC 10016
FREE AND OPEN TO THE PUBLIC
For more info:
http://www.rosalux-nyc.org/en/teach-radical-series-alternative-education-in-practice/