Join NYCoRE for its November General Meeting
This month's political education piece:
Making Sense of Sandy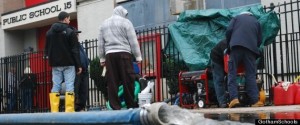 Hurricane Sandy has had a massive impact on our community.
UPDATE: We are asking meeting attendees to please read Naomi Klein's article in The Nation, Superstorm Sandy–a People's Shock?
The guiding questions for the reading are as follow:
What is your analysis of the response to the storm and the aftermath?
How were you, your schools, your students and their families impacted?
What are the needs you are still seeing in your community and school?
What should radical educators be doing in response
The following break-out groups are also expected to meet:
– NYQueer Curricular Spotlight
Strategic Read-Alouds:  Manufacturing Conversations, "Normalizing" Queer Families
At each monthly NYCoRE meeting, NYQueer will be offering a breakout group that is a mini-workshop with a curricular focus. This month's breakout is designed for elementary teachers and will emphasize the use of read-alouds that can help you begin introducing LGBTQ themes and/or avoid the pitfalls of a null curriculum in your classroom.
– NYCoRE Annual Conference Planning Group
– A Conversation around Hurricane Sandy 
– A New Teacher Discussion Group
For questions, or if you would like to facilitate a breakout group, please e-mail Rosie at Rosie@nycore.org
Location:
NYU Pless Hall 3rd Floor Lounge
82 Washington Square East
New York, NY
Time: 6:00 to 8:00 PM
There will also be a NYCoRE 101 Session at 5:30 for folks who are new to NYCoRE and who would like to hear more about the organization and ways to plug into it. If you are interested, please RSVP on the form below.
Some food will be provided.
Please Bring ID
Please RSVP to give us a head count for food, and to notify security.
Thanks,
NYCoRE Member Committee
http://www.nycore.org
Support provided by the Union Square Award, a project of the Tides Center.