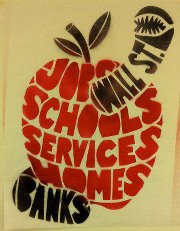 NYCoRE Members, Allies and Friends
NYCoRE believes that Occupy Wall Street is a profoundly important form of social action that is deeply connected to the struggle against the racial and economic oppression of poor, working, people and people of color. NYCoRE, as Leo W. Gerard, International President of the United Steelworkers, said in a statement, "…is fed up with the corporate greed, corruption and arrogance that have inflicted pain on far too many for far too long."
There is a large contingent of labor groups, unions and community organizations planning to rally on Wall Street this Wednesday
(http://www.rawstory.com/rs/2011/09/29/unions-and-liberal-groups-to-join-occupy-wall-street-protest/).
We need NYCoRE members and  allied groups to represent as a left contingent of the education movement! 
We will be marching under the Teachers Unite, NYCoRE and Fight Back Friday banners.
If you would like to march with us, here's the 411:
Meeting Place: Tweed Courthouse, 52 Chambers Street
Time & Date: 4:30pm, Wednesday, October 5th
Contact: Ariana, NYCoRE: ariana@nycore.org
For info on the education contingent check out the Teachers Unite post: https://www.facebook.com/event.php?eid=286317301381058
For information on the the Community/Labor March check out: https://www.facebook.com/event.php?eid=282473051782707
NOTE — please email Ariana your name and cell phone number so that she can know you're coming and so that she can be in touch as the date approaches!
Once we convene, we'll march down to Zuccotti Park. Please wear a NYCoRE t-shirt, if you have one. We want to make our presence felt!
Lastly, please bring a buddy who has your contact info and/or let someone who isn't coming know where you'll be. Given Saturday's arrests on the Brooklyn Bridge, we want to be sure that we're all accounted for and that people are looking out for us!