Public Schools and Universities Work Because We Do!
Join the October 2 Grade-In For Public Education

Dear NYCoRE Members and activists in the struggle for educational and social justice,
The attack on public education affects all of us, and in a city where the overwhelming majority of our students are poor/working class and of-color the effects are devastating. We must all stand together.
If you've got some papers to grade and/or lesson planning consider joining NYCoRE at our ally, Teachers Unite-sponsored, Grade-In for Public Education. The information is below.
Also, look out for more information from NYCoRE on the Oct 4th Rally in support of our DC 37 colleagues and the Oct 5th March on Wall Street.

In Solidarity,
NYCoRE Core Members
OCT 2nd GRADE-IN FOR PUBLIC EDUCATION
Education cuts to K-12 public schools and public Universities hurt students by decreasing resources and decreasing the amount of time teachers, graduate teaching fellows, and full time and part time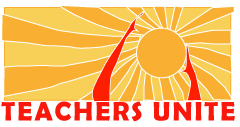 faculty can dedicate to their students due to an increased workload. To draw attention to the cuts to public education, educators will grade papers to make visible the work of teaching and call for increased public funding to make sure that students receive a quality education.

What: Educators will lesson plan and grade papers and exams.
Bring your work and a folding chair (optional).
Who: K-12 Teachers, Graduate Teaching Fellows, Full Time and Part Time Faculty
When: Sunday, October 2, noon-3pm
*rain date TBA* RSVP on Facebook for updates
Where: Liberty Plaza/Zuccotti Park, Manhattan
northwest side of the plaza near the #OccupyWallSt poster/art display
Cross streets: Trinity Place and Liberty St.
Trains: 4/5 (Wall St), R (Rector St.)
sponsored by Teachers Unite