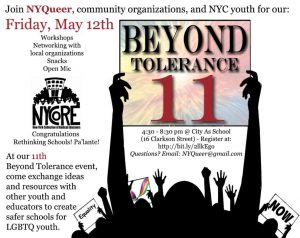 Beyond Tolerance Conference for Youth
FRIDAY, May 12th
City-As-School High School
16 Clarkson St, New York, NY 10014
4:30-8:30pm
Beyond Tolerance is an afternoon conference focused on issues of gender and sexuality. It is designed for youth and the adults who work with them.  It will provide participants with an opportunity to attend workshops, network with other attendees, and meet with people from local organizations that provide resources in our area.
Potential Schedule:
4:30pm – 5:20pm: Expo-style tabling & snacks (community groups and student groups)
5:30pm – 6:20pm: Session I workshops
6:30pm – 7:20pm: Session II workshops
7:30pm – 8:30pm: Open Mic
NYQueer is committed to offering a conference that is accessible to all.  We recently learned that City-as-School will not have a functional elevator at the time of our Beyond Tolerance conference this year. There is a wheelchair-accessible ramp into the school building located in the rear entrance to the school on West Houston Street.
If you or your students are in need of accessibility accommodations, we ask that you let us know prior to the day of the conference, either on your registration form or by emailing us directly at nyqueer@gmail.com. Our accessibility coordinator will follow up with you to make sure all steps are taken to make Beyond Tolerance accessible as is needed by our participants.