It's that time of year…
…time to register for one of this year's amazing ItAGs!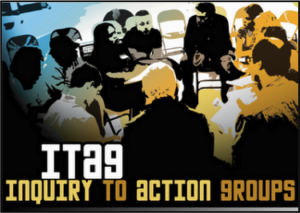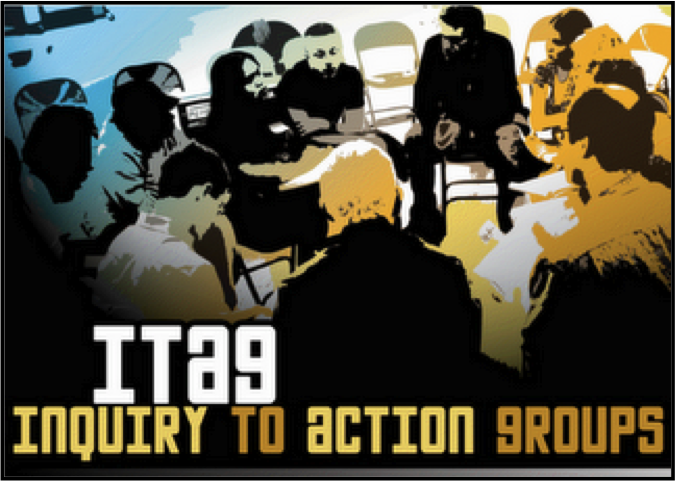 Check out the lineup of topics and register today!
The New York Collective of Radical Educators is pleased to offer an opportunity for teachers to build community and develop as activists. Educators will participate in Inquiry to Action Groups linking social justice issues with classroom practice. Small groups will meet weekly (for a total of six, two-hour sessions plus a kick-off and possible workshop) between January and March to share experiences, respond to readings, exchange ideas, and develop action plans.
** NYCoRE strives to make ItAGs affordable with a registration fee of $30. If you are unable to pay the full fee, there are limited scholarship funds available. Please email jonathan@brooklynfreeschool.org for more details. **
AFFIRMATIONS: Honoring Self & Community Care for & with Educators of Color
AFFIRMATIONS emerged as the ongoing action from NYCoRE's 2015 ItAG #BeyondtheMarches: Living, Teaching and Organizing through the Intersections and culminated in an imagining, designing and public sharing of our collective and individual art in a performance. This ItAG seeks to continue and further strengthen AFFIRMATIONS' mission to honor, explore, lift up, and affirm self and community care by and for educators of color. Each ItAG session will be organized twofold: the first half will focus on community building, dialoguing about our lived experiences, and processing readings and resources, while the second half will focus on writing and documenting our lives and experiences through creative writing prompts and exercises, and then sharing and workshopping, individually and collectively. We appreciate and invite both experienced and inexperienced artists/performers/writers as well as folks who might not ordinarily meet together to collectively creative critical and safe spaces to make art subtle and overt that shifts all vectors of oppression and our current culture of war. We value listening, laughter, questions, and silence as spiritual and political acts. The hope and desire is for us all to build a pedagogical practice that is courageous but also sustainable.
** This ItAG is open specifically to and for educators of color. **
Facilitators: José Alfredo Menjivar is a poet, writer, educator, grassroots activist, lecturer across NYC universities, and doctoral student in the Urban Education program at The Graduate Center, CUNY. He is currently unlearning and learning to love the American/Honduran/Mayan/Salvadoran/African/Queer/Borderland in him. Tiffany L. Jones is a multi media artist, educator, designer, activist, healer, and ordained officiant specializing in LGBTQ weddings. Currently she is an Art Teacher at City As School, and whose pedagogy is grounded in social change.
Location: TBA
Dates: Wednesdays, 5-7pm. Kick Off on 1/27; sessions following on 2/1, 2/8, 2/15, 3/1, 3/8, & 3/15; Closing on 3/24
Care-giving, Risk-taking, & Role-making: Models of Mama-Activists Around the Globe
This ItAG will explore historical and contemporary examples of mama-activists around the world who model ways of caring and fighting for themselves along with their children, students, families, and communities. Each week, ItAG members will read about, engage in dialogue with, and learn from other radical mamas with the goal of developing strategies for radical mothering as educators in this historical moment. The members of this ItAG will co-facilitate the learning experience by collectively gathering and sharing resources. This ItAG is open to mamas (self-identified women, gender non-conforming, trans women, and femmes who are birth, adoptive, and foster mamas) and their children. Free childcare and snacks will be provided.

This ItAG will be capped at 12 mama participants in order to ensure adequate space and care for participating children.
Facilitators: Ariana Mangual was a NYC public school teacher of Spanish and English as a Second Language in the early 2000's, and a founding member of NYCoRE. She is currently a professor at Rutgers University in New Jersey, where she prepares K-12 Bilingual and ESL teachers. Ariana lives in Brooklyn with her husband, where she is raising two bilingual daughters ages 3½ and 1½. Nadia Williams runs a college access program called the Parsons Scholars Program where students from NYC public high schools explore the power of being artists and designers from underrepresented backgrounds. She is also faculty at Parsons School of Design/The New School, where she actively engages in social justice initiatives. Nadia is a proud mama of a toddler who was born with equal parts laughter and side eye, and she finds strength and beauty in building community around the often daunting task of nurturing a healthy and just world view.
Location: CUNY Graduate Center, 365 5th Ave (Manhattan),
Dates: Sundays, 2-4pm. Kick Off on 1/27; sessions following on 2/5, 2/12, 2/26, 3/5, 3/12, & 3/19; Closing on 3/24
Clown Class: Searching for Fun in the Classroom
Joy and failure is where the clown plays. Come let your clown play and let your curiosity get messy and run wild. Games and hahas for dealing with the ups and downs of our classrooms. An ItAG centered in movement activities to engage our bodies and minds. Together we can dream bigger than our classrooms can feel and our education system appears to be. Open to up to 18 classroom teachers/educators, who are ready, willing, and wanting to make a mess.
Facilitators: Co-facilitated by Stewart Wagner, who teaches 9th & 10th grade Humanities at a public school in the Bronx and Una Aya Osato, who is a performer (clown/stripper/actor), writer, and educator from NYC. She has been involved with NYCoRE for over 10yrs, participating in & facilitating ItAGs, along with being part of keynote performances at the NYCoRE conferences.
Location: TBA
Dates: Wednesdays, 5:30-7:30pm. Kick Off on 1/27; sessions following on 2/1, 2/8, 2/15, 3/1, 3/8, & 3/15; Closing on 3/24
MADLIB: Musicians Actively Designing LIBeration
In this ItAG, we will come together as a community of educators, artists and activists to study, discuss, read, music-make, and/or create curricula around the necessity to reevaluate how we as music educators can actively and intentionally decenter whiteness from the current music education field, which is built on the foundation of white supremacy. This ItAG is open to high school students as well as undergrad/grad pre-service teachers. Are we ready to flip the switch?
Facilitators: Jules Hollander is a white, cis-male, European descendent, musician, music educator, organizer and lover of nature. He also really loves good vibrations. Percussionist Martin (pronounced mar-TEEN) Urbach is a white Latinx immigrant, education activist and percussion artist. His work in the classroom is based on facilitating safe spaces for students to fall in love with music and to promote social justice through music making. If not teaching, organizing or performing, Martin is mostly eating chocolate chip cookies, and speaking in his Cookie Monster voice.
Location: NYU's LaGuardia Coop space
Dates: Thursday, 5-7pm. Kick Off on 1/27; sessions following on 2/2, 2/9, 2/16, 3/2, 3/9, & 3/16; Closing on 3/24
Radical Imaginations: Education Beyond Racial Capitalism
The goal of this ItAG is to vision radical possibilities of an anti-racist & anti-capitalist education system from P-12 to higher education to prisons and beyond. We will ground ourselves in racial capitalism as put forth by Cedric Robinson in Black Marxism: The Making of the Black Radical Tradition. We will build a collective understanding of racial capitalism to understand how it operates in our education system, how we participate in it, and how we can resist and subvert it. Using examples of resistance from our communities and around the globe, we will vision new models of education. We welcome all who are involved in the education system (students of all levels and institutions, teachers, adult educators, prison educators, etc).
Facilitators: LaToya Strong is a science educator, doctoral student in the Urban Education program at the Graduate Center, CUNY, and a former NYC public school science teacher. Malcolm Sacks teaches ESOL/Social Studies at Bronx International High School, where his work with students focuses on popular/participatory action research on issues of economic and political inequity. He occasionally works as an adjunct instructor for NYC Teaching Fellows in the TESOL program at Long Island University, Brooklyn. He also serves as an organizer for the Cuba solidarity project, Venceremos Brigade.
Location: Harlem @ 110th (1 train); address will be sent to those that register
Dates: Tuesdays, 5:30-7:30pm. Kick Off on 1/27; sessions following on 1/31, 2/7, 2/14, 2/28, 3/7, & 3/14; Closing on 3/24
Islamophobia in Context: How to Respond as Educators and Allies
More than ever before our country has reverted to a deeply intense and dangerous moment that threatens the humanity of actual and/or perceived Muslims. This ItAG is an opportunity to understand and affirm the diversity within Islam, action plan in our personal and professional spaces to address islamophobia…
Objectives:
Participants will explore key issues related to Islam and Islamophobia

Participants will develop a basic foundation of knowledge about Islam

Participants will develop strategies for addressing Islamophobia in schools and/or communities
Facilitators: Nassim Zerriffi teaches history, current events and leads the activism project at Manhattan Country School. Nassim has a B.A. in Sociology and History and a B.F.A in Jazz Performance from the New School University, and an M.A. in International Educational Development from Columbia University. He has ten years experience leading groups of students in designing and implementing activism campaigns that involve policy change, advocacy, and media creation. Wazina Zondon is a sexuality educator and trainer currently teaching at an all-girl public high school in downtown Brooklyn. She is also the co-creator and co-performer of Coming Out Muslim: Radical Acts of Love.
Location: TBA
Dates: Wednesdays, 5-7 pm. Kick Off on 1/27; sessions following on 2/1, 2/8, 2/15, 3/1, 3/8, & 3/15; Closing on 3/24
The Power of Art and Healing
Art is power. The process of creating, collectively viewing, and, dialoguing about art can be a force for healing, organizing, and, liberation. The absence of cultural consciousness within many art education programs has the potential to distance women and people of color from self-actualization. There is a need to reconstruct the narratives of women of color in the arts, but also in the world. We hope to create a healing space that engages in discourse about art, culture, and gender, participates in the process of making art, and builds a community of strength and empowerment amongst women.

** This ItAG is open specifically to and for women of color and will be capped at 15 participants. **
Facilitators: Elizabeth Velazquez is an artist, and a visual arts educator at a small dual-language public school in Brooklyn. Lindsey Johnson was a High School special education and history teacher for a Brooklyn transfer school though is currently an art student and academic advisor at a CUNY community college.
Location: CUNY Graduate Center, 365 5th Ave (Manhattan),
Dates: Thursday, 6-8pm. Kick Off on 1/27; sessions following on 2/2, 2/9, 2/16, 3/2, 3/9, & 3/16; Closing on 3/24
ItAG Kick Off Meeting: A general kick-off meeting for all ItAG participants will be held Friday, January 27th, 6:00– 8:00 p.m. at CUNY Graduate Center @ 365 5th Ave. Room 5414. Dinner provided. (Call Jonathan @ 734.377.7063 if you have trouble finding the location). Registration: The registration fee is $30. Multiple teachers from the same school can register together for the same ItAG for a reduced rate of $25 each. This will cover the cost of materials and support NYCoRE's ongoing work. If you are unable to pay the full fee, there are limited scholarship funds available. Please email jonathan@brooklynfreeschool.org for more details. To register, visit www.nycore.org. Questions? Email natalia@nycore.org or jonathan@brooklynfreeschool.org. Registration closes on Wed. Jan. 25th.