Spend part of your Father's Day with NYCoRE and NYCoRE's People of Color Working Group at the:
End Stop & Frisk: Silent March Against Racial Profiling
Sunday, June 17th (March steps off at 3pm)
We will meet at 110th & Lennox at 2:30 pm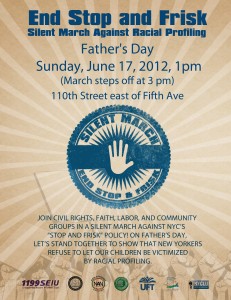 For question please email: edwin@nycore.org
If you are having trouble finding us please call Edwin at 917.400.6255 or Rita 240.506.0786
We hope to see you there.
In solidarity,
NYCoRE and NYCoRE People of Color Work Group
Some Facts about Stop and Frisk (from NYCLU as posted by NAACP)
In 2011, NYPD officers conducted 685,724 street stops, a more than 600 percent increase since Mayor Bloomberg's first year in office when officers conducted 97,000 stops. More than 4 million people have been stopped under this administration.
The massive spike in street interrogations has done little to remove firearms from the streets, the ostensible reason behind the stop- and-frisk regime. Instead, the wholesale violation of civil rights has sown mistrust between police officers and the communities they are supposed to protect.
Nine out of 10 people stopped are totally innocent, meaning they are neither arrested nor ticketed.
No gun is retrieved in 99.9 percent of stops.
The proportion of gun seizures to stops has fallen sharply — only 780 guns were confiscated last year, not much more than the 604 guns seized in 2003, when officers made 160,851 stops.
Though they account for only percent of the city's population, black and Latino males between the ages of 14-24 accounted for  percent 4.7% of population, and 41.6% of the stops in 2011. The number of stops of young black men exceeded the entire city population of young black men.