NYCoRE members, allies, and supporters (educators, informal educators, parents, concerned individuals), please join NYC rank and file educators at the State of the UNION Conference:
Public education is under attack!
Stand up, fight back!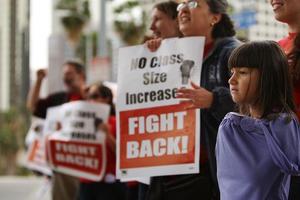 As educators we are strongest when our voices are united.
That is what a UNION is for.
The UNION makes us strong.
For far too long the leadership of our union, the United Federation of Teachers, along with the national American Federation of Teachers, have been silent, thrown up minimal defenses too little too late, and have even collaborated in the assault on our profession, our students and their families.
It is time to

re-imagine

our teachers' union
Imagine. . .
A union with true democracy.
A union where members' concerns, ideas and opinions form the union identity.
A union that works to educate, organize and mobilize its members in support of public education,
our careers as professionals, and our students, their families and communities.
A union that works to end mayoral control and other racist policies
that have removed the voice of educators and parents from decision making.
A union that works with individual schools to recruit and train chapter leaders and delegates who share this vision.
A union that supports Chapter Leaders in struggles with administrations and in their work to educate and organize members.
Join rank and file union members, and parent and community allies at:
The State of the UNION Conference
Saturday, February 4th, 2012
Come meet other UFT members who want a new kind of union
Learn about the history and functioning of the UFT in workshops facilitated by
rank and file members, union delegates, and fellow teachers
Workshops include:
UFT 101: Introduction to the UFT
Organizing 101: parents and teachers working together–a vision for a community oriented teacher union
The UFT past and present
What is social justice unionism?
What happened to Brown vs. Board of Education: resegregation of our schools
The disappearing Black and Latino Teacher and the deprofessionalization of Teaching
What's the 1% want with our schools? (Privatization 101)
Mayoral Control vs. A People's Board of Education
Building your chapter: how do you organize at the school level?
Federal, State and local policy and our schools
What does democracy in our union look like?
Strategy and tactics: after Occupy Wall Street, what's next for our movement?
Teacher evaluations and transformation school
Conference Info:
Saturday, February 4th, 2012
10:00 am to 4:00 pm
at the Center for Worker Education
25 Broadway, 7th Floor, NYC
Find us on Facebook: State of the Union
Please register online for the State of the Union Conference: http://stateoftheunionconference.eventbrite.com
$10 pre-registration
$15 at the door
Scholarships available, please email stateoftheunionfeb4@gmail.com
For childcare services at the conference please email Peter Lamphere at peter.lamphere@gmail.com
Directions:
Subway Stations nearby:
We are the Ones We Have Been Waiting For!