A FREE TWO-PART WORKSHOP!!!
How can we use art in the classroom to help us enrich our curriculum?
How can we use art as a tool to connect our students to important issues and engage them in opportunities for dialogue and exchange?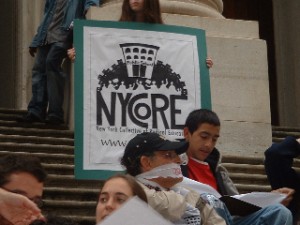 Join New Museum and NYCORE in a FREE special 2-part interactive workshop that introduces teachers to using contemporary art in the classroom. Participants will also work intensively with international New Museum artist Nicolás Paris to explore how art can be used as a platform for discussion and exploration of ideas and have the opportunity to reflect on how to take workshop activities and strategies back into the classroom.
WHEN:
Thursday, February 2 from 5:30 to 7:30 p.m. at the New Museum
Thursday, February 9 from 5:30 to 7:30 p.m. at the New Museum
All participating teachers will be invited for a free tour of the New Museum Triennial "The Ungovernables" after the workshop ends. For more information on this and other exhibitions, see http://www.newmuseum.org/exhibitions/448/the_ungovernables. Founded in 1977, the New Museum is located on Bowery at Prince Street and is a leading destination for new art and new ideas. It is Manhattan's only dedicated contemporary art museum.
How do I register?
To register please email Jen at jsong@newmuseum.org
We encourage participants to sign up for the entire two part series.
Middle School and High School educators are encouraged to apply.
Registration is limited.
FREE!!!!!!!!!
DOWNLOAD FLIER: NYCORE-NEW MUSEUM Flier
Who is Nicolás Paris?
Nicolás Paris is from Bogotá, Colombia. Academically trained in architecture, Paris was a primary school teacher in Meta, Colombia, before pursuing a career as an artist. Paris's work often draws on pedagogical strategy to incorporate elements of collaboration, dialogue, and exchange in his work, which is oriented around interests in architecture as a model, education as a system, and drawing as a tool. Paris has exhibited around the world and individually in Mexico, Colombia, and Spain. Recent group exhibitions include "Illuminations," 54th Venice Biennial, Italy (2011) and the upcoming New Museum Triennial "The Ungovernables," on view February 15, 2012