Footage from Tonight!
From Gotham Schools

 http://gothamschools.org/2011/11/07/occupy-protesters-join-teachers-and-parents-on-tweed-steps/
_________________________________________________________________________________________
***Calling all parents, students, teachers, school aides, community organizations, youth groups, and community members concerned about creating public education in the interest of the 99%***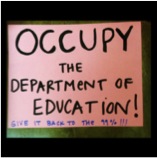 OCCUPY the Department of Education invites you to the:
People's General Assembly 
on Public Education
Date: Monday, November 7th
Time: 5 PM
Location: Steps of Tweed Hall, 52 Chambers St.
Please join us for the exercise of democracy, the raising of silenced voices, outrage at the lack of public representation in decisions of educational policy, the creation of a People's Agenda for our schools and creation of collective actions that can realize this agenda.
During the OCCUPY the Panel for Educational Policy (PEP), we invited Chancellor Walcott to this forum. He declined our offer but we still think he should hear our voices. Please encourage him to come along with members of the City Council Education Committee in this exercise of real democracy.
Click here to send Walcott your invitation
Councilman Robert Jackson, Chairperson, Education Committee