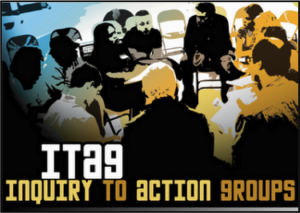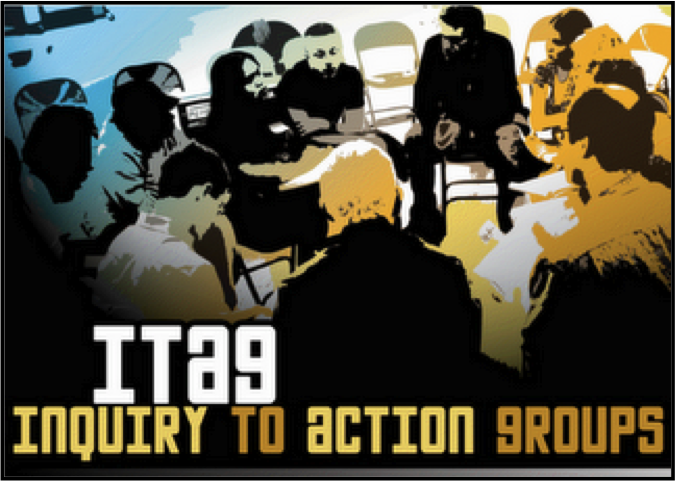 The New York Collective of Radical Educators is pleased to offer an opportunity for teachers to build community and develop as activists.  Educators will participate in Inquiry to Action Groups linking social justice issues with classroom practice.  Small groups will meet weekly (for a total of six, two-hour sessions plus a kick-off and possible conference workshop) between January and March to share experiences, respond to readings, exchange ideas and develop action plans. 
Here are this year's ItAGs!
1. Mindfulness in Teaching and Action: Building a Radical Practice
Learn about mindfulness practices and how it can help you. We will explore mindfulness, the practice of being attentive and aware to the present moment without passing judgment.  We will study writings on the art of mindfulness practice, the science of meditation, and how mindfulness can play a role in our classrooms and in movements for social justice. We will also begin to cultivate our own practices, collectively and individually through a variety of different meditation exercises.
Facilitators: Margrit Pittman-Polletta is a kindergarten special education teacher in Brooklyn. She has been exploring mindfulness over the last year and enjoys practicing conscious breathing with her five year old students. Argos S. González is an English teacher at a transfer high school in the Bronx and an adjunct lecturer at Hunter College.  He has introduced mindful practices to educators and students alike and also facilitates mindful workshops and meditation classes.
Location: CUNY Graduate Center, 365 5th Avenue (Manhattan), 5th Floor, Rm. 5409 (Bring ID)
Dates: Mondays from 5:00-7:00 pm. Kick off on 1/24; sessions following on1/27 2/3, 2/10, 2/24, 3/3, and 3/10.
2. Critically Unpacking Race with Educators of Color
Race discourse(s) in the United States are a constant moving target–particularly because we have yet to have an intentional, national discourse on the ways racism and systems of oppression implicate and affect us all. Race, as a social construction, is inherently divisive–designed to other and further marginalize people of color, while maintaining and benefiting the dominant culture. On the ground, talking about race can often lead to uncomfortable, difficult, emotional, and highly-charged situations.
This ItAG seeks to create a safe and critical space for educators of color to dialogue and unpack race. The goals of this ItAG seek to
1. Critically reflect as an educator on race, identity politics and the intersections of multiple systems of oppression.
2. Build a critical and supportive network by and for people of color.
Each ItAG session will be organized two-fold: the first half will focus on community building, processing and dialoguing about race in our professional settings, while the second half will focus on strategic planning, curriculum building, anti-racist tools and resource sharing.
**This ItAG is open specifically to and for educators of color.
Facilitators: José Alfredo Menjivar is a writer, educator, activist and doctoral student in the Urban Education program at The Graduate Center, CUNY. His politics and activism are centered on the ways race, class, gender, sexuality, language and citizenship fundamentally shapes and marks how folks of color, exist, participate and navigate the word and the world. David R. Rosas, a native New Yorker, works in education to foster critical consciousness and self-determination with young people. He is the assistant principal at The Ethical Community Charter School in Brooklyn, and has taught several grades from Kindergarten to 7th grade for 12 years in urban public and private schools. He is currently working towards a Ph.D. in the Urban Education program at The Graduate Center, CUNY.
Location: La Casa Azul Bookstore, 143 E. 103rd St. (Manhattan).
Dates: Tuesdays from 5:00-7:00 pm. Kick off on1/24; sessions following on 1/28, 2/4, 2/11, 2/25, 3/4, and 3/
3. Beyond Scores, Ranks & Rubrics: Re-imagining Teacher Evaluation
Images of teacher evaluation (and teacher value) represented through scores and plotted on charts, graphs and rubrics have had a profound impact on shaping what matters in education and how society views teachers' contributions, capacities, and worth. In this ItAG we will come together to examine, critique, and challenge popular images and notions of teacher evaluation and consider, what is (visual) evidence of good teaching? Reflecting on our own classrooms, experiences, and the new Advance teacher evaluation system, we will critically engage media images of teacher assessment and "speak back" to these images by creating our own, challenging both what gets measured and how. Through visual analysis, discussion, art and re-mix, we will re-imagine what we think teacher evaluation and teacher value could and should be.
This ItAG will be limited to 15 participants. It's first come, first serve, so sign on up!
Facilitators: Victoria Restler is an interdisciplinary artist, educator and doctoral student in Urban Education at the CUNY Graduate Center. A native Brooklynite, she has worked for over ten years to address social justice issues through participatory art-making. Her dissertation research focuses on the visual representation of teacher assessment and she hopes to launch her research with this ItAG. Daralee Vazquez García is a native Brooklynite and brings a wealth of experience in both private and public schools, ranging from early childhood to secondary. She is an educational and social justice activist and is currently teaching Spanish for the DoE; she is also an adjunct professor at BCUNY.
Location: CUNY Graduate Center, 365 5th Avenue (Manhattan), Urban Education Thesis Room 4202
Dates: Wednesdays from 5:00-7:00pm. Kick off on 1/24; sessions following on 1/29, 2/5, 2/12, 2/26, 3/5, and 3/12.
4. Migration is Beautiful: Empowering Undocumented Students to Advocate for Themselves
As educators we are constantly battling systemic injustice and trying to figure out how best to advocate for our students. In this ItAG, we will begin by exploring the context undocumented students and their families face in New York City. We will then identify ways in which we can empower our students, inside and outside of school, to become advocates for immigration reform. The facilitation of this ItAG is a collaboration between the New York State Youth Leadership Council, New York's "undocumented youth-led, membership led, organization that empowers immigrant youth to drop the fear and challenge the broken immigration system through leadership development, grassroots organizing, educational advancement, and a safe space for self-expression" and TeachDREAM– a working group of NYCoRE focused on making NYC public schools safer spaces for undocumented students and families.
College students can register for this ItAG for a discounted rate of $10. High School students register for FREE! See EventBrite.
Facilitators: Melissa García is a native of Colombia and is currently a senior at CUNY Lehman College in the Honors Program. Melissa began her involvement with the NYSYLC in 2010 and is currently a coordinator of the Leadership Development Committee; she is Undocumented, Unafraid and Unapologetic. Dominique Hernandez is the Field Organizer at the NYSYLC and a student at Queens College. She is undocumented, unafraid and unapologetic. Ariela Rothstein is a fourth year history teacher at East Brooklyn Community High School in Brownsville. Since participating in the No Human Being is Illegal ItAG last year, she's worked with the TeachDREAM working group of NYCoRE to create, revise and promote a resource guide for educators working with undocumented students and families in NYC. Jenna Queenan is an11th grade ESL teacher in Brooklyn. She participated in the No Human Being is Illegal ItAG last year. In addition to working with ESL and immigrant students in the classroom, Jenna also co-leads the Dream Team at her school.
 Location: The New York State Youth Leadership Council (NYSYLC), 339 Lafayette St. (Manhattan), Suite #304
Dates: Thursdays from 6:00-8:00pm. Kick off on 1/24; sessions following on 1/30, 2/6, 2/13, 2/27, 3/6, and 3/13.
5. Engaged Pedagogy: Building Emotionally Responsive Practices into our Classrooms
We will explore the dynamics between emotional well being and learning. Our dialogue will take into consideration that teaching is about establishing relationships. What kinds of relationships are you building? Reframing the perception of youth is critical: All students want to be successful but have challenges limiting their potential.  Students do well if they CAN. How is this different from 'students do well if they WANT to'? Racism, gender, and class bias are realities that affect our students' education. How does this impact learning?  Participants will walk away with tools to incorporate emotionally responsive methods into their practices
Facilitators: Kathe Karlson, LCSW, has been a school social worker in public high schools for 18 years. Previously she worked with youth and families in a variety of capacities (youth programs, community based organizations, criminal justice, therapist). She is also a political activist. Lindsey Johnson is an educator who is passionate about effective classroom practices for diverse learners. She was a public high school special education and history teacher for a Brooklyn transfer school and is currently an academic advisor at Kingsborough Community College.
Location: The Metro Center @ NYU, 726 Broadway (Manhattan), Conference Room 503
Dates: Saturdays from 11:00 am – 1 pm. Kick off on 1/24; sessions following on 1/25, 2/1, 2/8, 2/15, 3/1, and 3/8.
ItAG Kick Off Meeting: A general kick-off meeting for all ItAG participants will be held Friday, January 24th, 6:00– 8:00 p.m. at NYU, Pless Hall @ 82 Washington Square East (between Greene and Washington Square Park). 3rd floor Lounge. Dinner provided. (Call Rita @ 240.506.07861 if you have trouble finding the location).
Registration: The registration fee is $30. Multiple teachers from the same school can register together for the same ItAG for a reduced rate of $25 each.  This will cover the cost of materials and support NYCoRE's ongoing work. Student discount available for Migration is Beautiful (See EventBrite). Registration deadline is January 21st. Register here today.