Write On!: Writing for Social Justice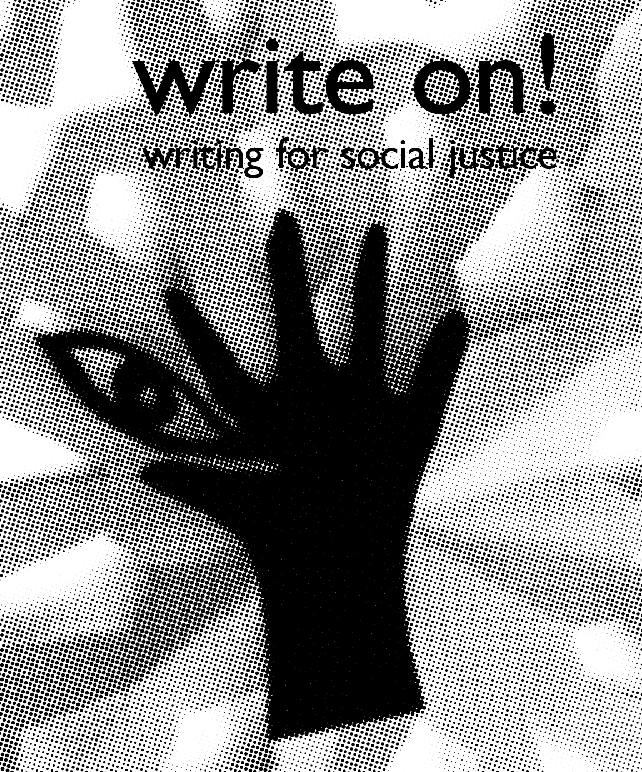 NYCoRE is pleased to be sharing a new resource for and by teachers: write on! writing for social justice. write on! is a resource that was created by NYCoRE's Write On! Writing for Social Justice inquiry to action group (ItAG).
Download write on! writing for social justice

Description:
(An excerpt from the Introduction to write on! by Lindsey Johnson and Joy Osborne)
'The function of art is to do more than tell it like it is- it's to imagine what is possible.' ~bell hooks
..our Inquiry to Action group has worked together to create a space of imagination. Our aim was simple: to determine what the phrase 'writing for social justice' meant to us individually, and as a group, and to transform our teaching practice through our time together.
A little under two months later, we offer you this text. A combination of our own personal musings and tools that make social justice teaching 'go,' we hope that this book inspires you to approach your next lesson, unit or long-term plan with a fresh lens.
…Writing for social justice is a process that we use to critique society, struggle, the world and our own personal histories; it affirms life and struggle. Community creates trust, which allows us to be vulnerable. We become vulnerable so that we can become empowered. When we become empowered, we begin to develop actionable plans for our lives.
Writing for social justice gives both students and teachers a mindful purpose to our work. We want our students to have a safe space in which they question. A social justice framework allows students to develop a voice and to become creators of knowledge. We want our students to be able to use language as a way to build confidence and strengthen communication. We must honor their efforts and willingness to engage.
We hope that this offering will do a few things for you, dear reader:
• Push you to think about writing for social justice in new ways
• Inspire both yours and students' creativity in your classroom
• Help you to find ways to further incorporate student voice
• Give authentic voice to the work our group has done together as a team
Thank you for reading. It has been a true pleasure to write, and to rise up, together.
paz. amor. justicia.
Write On!
Download write on! writing for social justice
write on! ItAG Facilitators & Participants:
Ama Codjoe is the poetry-teaching artist with A.C.T.I.O.N. (a social justice and arts program) and the co-facilitator for the Social Justice Pedagogy Team at DreamYard Project in the Bronx.  Chrissy Williams is a high school English instructor at Arturo A. Schomburg Satellite Academy in the Bronx.
Participants/Resource writers include:
| | |
| --- | --- |
| Ama Codjoe | Marissa Metelica |
| Abigal Ellman | Joy Osborne |
| Stephina Fisher | Dirk Peters |
| Rosie Frascella | Jennifer Phuong |
| Latisha Gilbert | Ariela Rothstein |
| Kayty Himmelstein | Helen Rubinstein |
| Lindsey Johnson | Devon Stanley |
| Vani Kannan | Elissa Vinnik |
| Stuart Kermes | Chrissy William |