School Closings,
Increased Charter Co-locations,
Larger Classes,
Merit Pay,
Firing Half the Staff at 33 Schools
AND
A Flawed Teacher Evaluation System…
The Education Mayor?
It's time for the first Fight Back Friday of 2012
(soon to be occupy Friday??)
THIS FRIDAY – JAN 27th:
PROTEST OUT IN FRONT OF YOUR SCHOOL!
LEAFLET AROUND YOUR SCHOOL!

OR JUST……
WEAR BLACK!
Fliers and stickers and such to follow.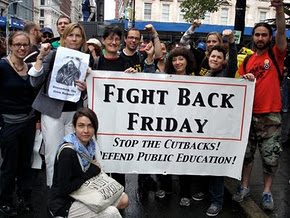 Please respond to this email or email: 
if you think your school might participate.
Or to ask for more info or help in planning an action.
We want to get coverage for all the actions and let the public know that parents and teachers are fighting back!
Last spring over 50 schools participated on several Fridays. It's a great way to build solidarity among your staff, reach out to parents and students and to begin to create the coordinated city-wide effort we all know is needed.
It is time for rank and file teachers, parents and our students to move towards becoming ungovernable.
Mayoral control, the attacks on our livelihoods, and on our students' education will not end simply because we want them to.
It will take mass mobilization at the school and city-wide level.
We need to end the privatization of Public Education through charters and merit pay!
 End the destructing of education through the abuse of high stakes testing!
Say NO to school turn-arounds that will destroy school communities, our student's education and the lives and careers of our colleagues.
WE MUST DEMAND AN END TO MAYORAL CONTROL!
PARENTS AND EDUCATORS MUST HAVE A CONTROLLING VOICE IN EDUCATION!
Here are some times articles covering FBF in the past. We have had lots of other coverage as well.
And the FBF Blog from John Dewey HS.
http://fightbackfridays.blogspot.com/
http://cityroom.blogs.nytimes.com/2010/11/19/fighting-closure-of-a-high-school-on-the-brink/http://cityroom.blogs.nytimes.com/2011/05/31/makeshift-groups-rising-to-oppose-cuts/
in solidarity.
sam
for the rank and file Fight Back Friday committee