We're almost there, NYCoRE family!
Join us this Friday for our last member meeting of the 2015-2016 school year.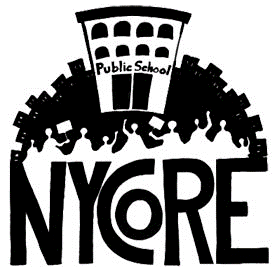 Experiences of Educators of Color in the Public School System and in NYCoRE
This month's political education piece will be facilitated by members of the Educators of Color (EoC) affinity group.
In the final NYCoRE Member Meeting of this school year, we will be looking at experiences of educators of color in the public school system. Additionally, we will look at experiences of educators of color in NYCoRE, the history of educators of color within NYCoRE, and reflect on how responsible we are as a collective to our values and our points of unity. We will take time to reflect on our individual experiences as educators with an eye toward building a more genuinely anti-racist and inclusive NYCoRE space in the upcoming school year.
In Working Groups, we will reflect on and celebrate this past year and share out our successes with the whole group.
Please remember to RSVP to give us an accurate head count for food! Also, please bring reusable food containers and utensils… let's be radical in all aspects of our lives!
Time: 5:30-8:00pm
This meeting will include political education and working group breakout time, as well as end of year reflection and celebration.
Location: NYU Pless Hall 3rd Floor Lounge
82 Washington Square East
New York, NY
There will be no NYCoRE 101 for this meeting. If you're new to NYCoRE, please check out nycore.org to see our member guide!
Please bring ID and RSVP for us to notify security and to give us a head count for food!
NYCoRE
http://www.nycore.org