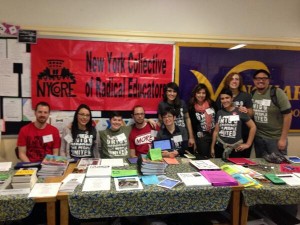 We hope everyone had a pleasant and restful summer. The New York Collective of Radical Educators (NYCoRE) would like to invite you to our first monthly meeting of the 2013-2014 school year!
WHEN: Friday, September 20th.  6-8pm
WHERE:
NYU Pless Hall
82 Washington Square East (Entrance on Washington Place)
Third Floor Lounge
Please bring ID
WHY:
Start the year off by connecting with like-minded educators, learning about the various ways to plug into NYCoRE, and reflecting on your own goals for the school year and for our collective work. Our first meeting of the year will give you the opportunity to re-dedicate, rejuvenate, and refresh your commitment to the struggle for a just and equitable school system.
Come out on the 20th, bring friends and colleagues and enjoy some free food and great company!
RSVP below or here
Questions: Email us at info@nycore.org
Join us for our 2013-2014 General Meetings!
NYU Pless Hall
82 Washington Square East (Entrance on Washington Place)
Third Floor Lounge
6:00 – 8:00pm
Friday, Sept. 20th
Friday, Oct. 18th
Friday, Nov. 15th
Friday, Dec. 13th
Friday, Jan. 17th
Friday, Feb. 28th
Friday, April 25th
Friday, May 16th
Friday, June 20th
Please bring ID
Questions: Email us at info@nycore.org