Haven't registered for an ITAG yet?
Register for this one!?!

Listening to Marginal Voices: Exploring Queer Latino Identity
In this NYCoRE Inquiry to Action Group (ITAG) we will engage in close readings, writing and discussion in order to better listen to varied schooling and educational learning experiences. The ITAG materials will be focused on close readings of the work and writings of (male identified) Latino men across the LGBTQ spectrum. What commonalities surface? What interlocking oppressions mark their unique experiences? Why are the often silent voices and lived experiences of queer Latino men important to consider-both in and outside of the classroom? Utilizing queer, borderland, and intersectional theories, the goal of this ITAG is to explore and move towards an understanding of why and how educators can create safe spaces to better support queer Latino male youth, and other marginalized youth,  in purposeful and intentional ways.
Facilitators:
Benny Vasquez was born and raised in Brooklyn! He is currently the Director of Diversity at a local NYC independent school. Prior to his current position, Benny was the Director of Education at GLSEN (Gay, Lesbian and Straight Education Network).
José A. Menjivar was born in Honduras, and raised between Brooklyn and Queens. He is currently an advisor and an English teacher at a transfer high school in the South Bronx. José is also applying to doctoral urban education programs, and working on his first play and debut poetry collection.
Location: La Casa Azul Bookstore, 143 East 103rd Street (Manhattan), Lower level.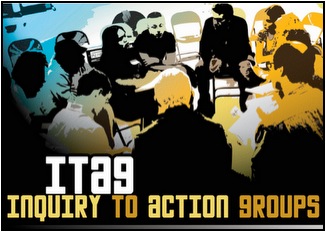 Dates: Wednesdays from 5:00-7:00pm. Kick off on 1/25; sessions following on 1/30, 2/6, 2/13, 2/27, 3/6, and 3/13.
Register Now: To register for this wonderful ITAG, or to learn about some of the others, click here
 Questions: info@nycore.org