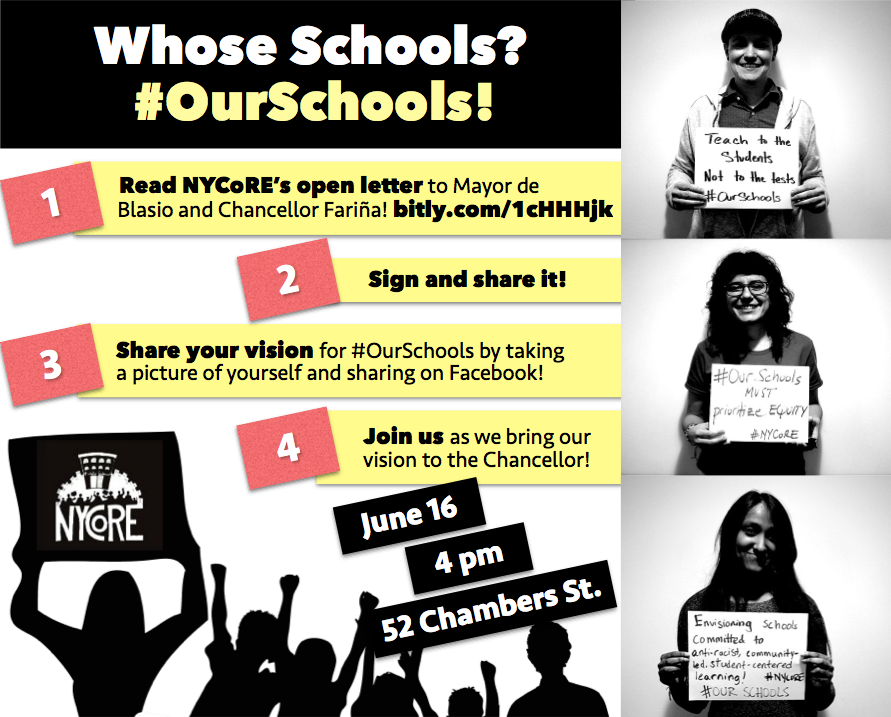 Whose Schools?!
#OurSchools
Join NYCoRE as we deliver our Open Letter and bring our vision to the steps of Tweed!
Monday, June 16th
4-6 pm
Tweed Courthouse
52 Chambers Street
(4/5/6 City Hall, 2/3 Park Place, A/C/J Chambers)
We spent much of the last year working collectively and collaboratively to articulate our hopes, demands and vision for the schools our students deserve in an  Open Letter to Chancellor Carmen Farina and Mayor Bill de Blasio.
On Monday, June 16th, on the eve of New York's Regents exams and in the wake of the re-introduction of the New York Dream Act, we invite all our members, friends, and allies, to join us on the steps of Tweed to deliver our letter and its signatures, and to bring the contents and vision of the letter to life!
To gear up for and support our action on June 16th, you can:
**Plug into our social media campaign to help bring others into the conversation about what visions we have for #OurSchools (Check out the examples above!)**
**Join us for a poster making session on Sunday, June 15th in Brooklyn (RSVP here)**
**Come to Tweed on Monday afternoon with your colleagues, friends, and positive energy!**
See you on the 16th!