Education for Liberation Network  and NYCoRE are pleased to announce the publication of the 2014-2015 edition of Planning to Change the World: A Plan Book for Social Justice Teachers. This unique resource is packed with all new social justice anniversaries and birthdays as well as lots of new resources, quotes and essential questions for students.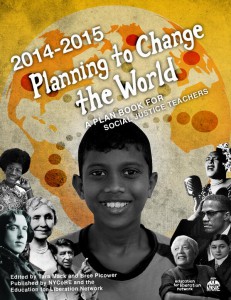 Order your copy from Rethinking Schools for a discount price today!
So what exactly is a social justice lesson plan book?
Planning to Change the World is a plan book for educators who believe their students can and will change the world. It is designed to help teachers translate their vision of a just education into concrete classroom activities. It has all the things you would expect in a lesson plan book plus:
Weekly planning pages packed with important social justice birthdays and historical events
References to online lesson plans and resources related to those dates
Tips from social justice teachers across the country
Inspirational quotes and thought-provoking essential questions to share with students
and much more!​
What leading educators have said about Planning to Change the World
Every teacher – novice, veteran, and in-between – will love Planning to Change the World. This is one that should be in every teacher's backpack.
–Sonia Nieto, Professor Emerita, University of Massachusetts, Amherst
An imaginative and innovative idea in the field of education…I hope it will be widely adopted.
–Howard Zinn, author of A People's History of the United States
After 18 years in the classroom I have found a planning book that treats teaching as an art form.  On virtually every page of this book, I find myself challenged and inspired to think more deeply about the importance of what I do every day in the classroom.
–Jeff Duncan-Andrade, Assistant Professor at San Francisco State University and high school teacher
Read more praise from educators such as Lisa Delpit, Pedro Noguera and Linda Christensen as well as classroom teachers.
The 10-Year Rule (or why is it that the dates are different in each edition)
Planning to Change the World 2014-2015 is the seventh edition in the series, and each one has featured a unique collection of events and birthdays. When we created the first edition for the 2008-2009 school year, we realized there are so many events and people that could be featured in a planner like this, we had to find a way to narrow the possibilities. So we established the 10 year rule, which generally means that (with a few exceptions) anniversaries/birthdays must fall on a 10 year mark during a given school year to be included (i.e. the 20th anniversary/birthday, the 20th, 40th, 80th, 120th etc.). The result is the events and birthdays are different each year.