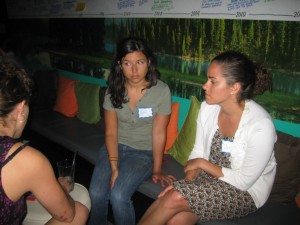 By Hilary Lustick, Organizer
Flushed with pride in new teachers and old, the New Teacher Underground launched our summer series on Thursday, July 14.  Organizers gathered with about 20 teachers in the intimate downstairs (aka "underground") of Lower East Side's Lolita Bar to learn the history of education in New York City and talk about how our experiences fit into that history.  Teachers reached across generations, certification programs, and subject areas to talk about what they had in common: the intricacies of managing a classroom, working for a system we don't support, and meeting the demands of an increasingly high-stakes testing, charter-saturated city administration.  Julie Cavanaugh, a teacher, teacher activist, and co-producer of "The Inconvenient Truth Behind Waiting for Superman", volunteered her time to walk us through a century's worth of New York Education History that both began and ended with mayoral control over the public schools.  Not much has changed—including the ability of teachers to take learning into our own hands.


Sessions will continue every Thursday through September 1, 2011.  For more information, please check us out on Facebook at https://www.facebook.com/NewTeacherUnderground and remember to Like us!