Educational Courage was just named one of this years fifteen must read books on K-12 education in the U.S. by the  Christian Science Monitor
NYCoRE, the Public Science Project & the CUNY Urban Education Ph.D. Program invite you to: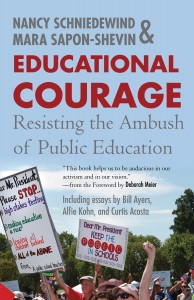 EDUCATIONAL COURAGE:
Resisting the Ambush of Public Education
NANCY SCHNIEDEWIND & MARA SAPON-SHEVIN
Wednesday, October 24th – 5pm – 7 pm
"Voices of Educational Courage from New York City"
CUNY Graduate Center
365 5th Avenue, New York, NY 10016
Room 6304.01
Authors/Panelists:
Ujju Aggarwal, Sam Coleman, Jane Hirschmann, Brian Jones, Jessica Klonsky, Edwin Mayorga, & Donna Nevel
Moderator:
Nancy Schniedewind
Copies of Educational Courage and NYCoRE materials will be on sale before and after the panel.
For info on the book click here
Support for the talk is being provided by the Union Square Award, a project of the Tides Center.
RSVP below.
[gview file="http://www.nycore.org/wp-content/uploads/EdCourage.GC_.BookTalk.small_.pdf"]