Join NYCoRE for its Monthly General Meeting!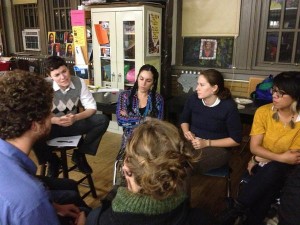 Vegetarian food will be provided. Please bring ID!
Please RSVP  for the upcoming meeting when they are announced.
Your RSVP helps us take a head count for food, and to notify security.
If you have questions, please email us at info@nycore.org
Stay connected with NYCoRE on Facebook and Twitter
Join us for our 2016-2017 General Meetings!
iMentor
30 Broad Street, 9th Floor
5:30 – 8:00pm
March 17, 5:30-8pm
April 21, 5:30-8pm
May 19, 5:30-8pm
June 16, 5:30-8pm
Medical Health & Wellness Statement Pertaining to Scents and Food Allergies
All NYCoRE member meetings are NOT scent free spaces. In particular, members are advised that when navigating our member meeting space, folks will be exposed to food smells. We as CORE will do our best to post on our meeting announcements what we will be ordering for food, however that may be subject to change. More specifically, the food we order is reflective of the culture and identities that make up our membership. Which means that the smell of food often times comes rich and full of spices. We understand that not everyone can work in such a space. We ask that adult members take care of themselves and inform us on how to support in the event of a medical emergency, but that it is the responsibility of our individual members to come prepared with any allergy medication necessary as we are not legally trained or certified to administer medication. Finally, we understand that this is human work and difficult work as we move towards liberation and strongly believe that we must nourish our bodies and our souls to do this work and thus do not have the capacity to eliminate food or scents from our space at this time. We thank our membership and community for understanding in advance.